Let's address the elephant in the room. Do you like it when an advert pops up in the middle of your favorite TV show? How about when you open up your email and it is full of all those sales emails from brands you most probably didn't even subscribe to? Quite annoying, right?
These mass marketing techniques are quite intrusive. It's 2022, no one likes these intrusions anymore than they would like frozen ice cream on a really cold day. Every day, customers now decide for themselves WHAT they want to buy and WHO they want to buy it from. More importantly, they have the freedom to decide if they want to be advertised to or not.
So the power is now with the customers and not the businesses anymore. This is exactly why most businesses have embraced the inbound marketing method.
Instead of forcing your business on people, the inbound marketing method focuses on drawing customers and prospects by using compelling and valuable pieces of content. The focus is on creating content that solves the problems and answers questions that your potential customers may have. This in turn helps to keep your brand on top of their minds. Eventually, when they are ready to make a buying decision they can come to you easily.
What Is Inbound Marketing?
According to Hubspot, "The inbound methodology is the method of growing your organization by building meaningful, lasting relationships with consumers, prospects, and customers."
It is all about creating the best experience for your customers at every stage of their journey. A larger percentage of consumers make their decision based on emotions. The idea is that by supplying your audience with meaningful moments, you'll give them a compelling reason to keep coming back to your brand. Buyers make decisions based on their emotions. If you attract them with valuable content or conversations, you satisfy their needs for positive feelings.
Traditional marketing is a one-way conversation – the marketer talking 'at' the potential customer. Inbound marketing is an invitation to an ongoing dialogue. One in which you can communicate with your customers in a style that appeals to them.
Inbound marketing is all about putting out the right content at the right time, in the right places to meet the needs of your customers and prospects.
Outbound Vs Inbound Marketing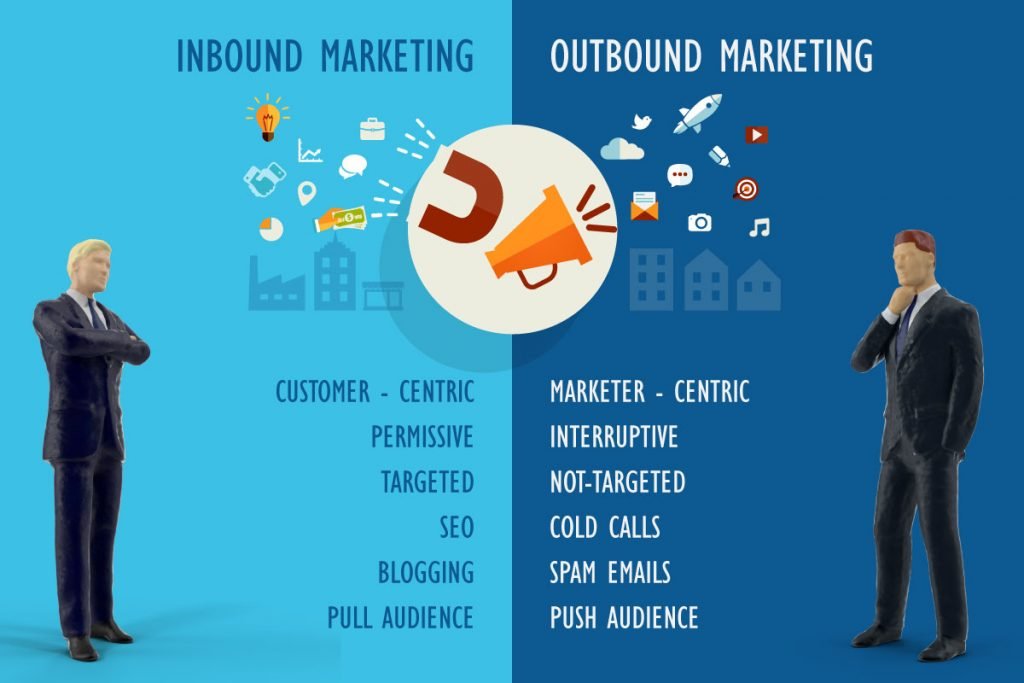 Outbound marketing is the traditional method of marketing that revolves around pushing out marketing messages to potential customers and hoping it resonates with them. Some outbound marketing methods include email blasts, cold calling, TV ads etc. But the problem is that consumers over the last few years have grown to detest this type of marketing.
Inbound marketing involves creating and sharing valuable content that helps you to attract the type of people you want. This increased awareness means that you can continue engaging with them at every stage of their buyers' journey until they are willing and ready to purchase from you organically.
Outbound marketing involves proactively reaching out to consumers to get them interested in a product. By contrast, inbound marketing centers on creating and distributing content that draws people into your website. Outbound strategies usually take up a lot of time and resources and have low returns. Inbound however allows you keep an engaged audience that can be more easily transformed into a lead or prospect.
The 3 Elements Of Inbound Marketing
The inbound methodology, pioneered by HubSpot, originally divided the sales pipeline into four essential stages: attract, convert, close, and delight.
However, in more recent years, the inbound methodology has been updated to better reflect the overall customer experience which HubSpot says is cyclical; it never ends.
The new stages have been divided into three key phases: attract (strangers), engage (prospects), and delight (customers).
Attract
This is the first stage of the inbound method. At this stage, the focus is on drawing or attracting the right people with valuable content. This contenthelps to establish your business as a trusted authority within your industry. Potential buyers are coming in touch with your brand for the first time in this stage. They are still strangers and trying to familiarize themselves with your business.
Tools you can use at this stage will include Ads, video, blogging, content marketing, social media, etc
Engage
Attracting people into your funnel is just the first stage. Now you have to try and convert as many of them as possible into new leads and actual paying customers.
For modern buyers and long-term success, this needs to be done in a way that will set you up to build lasting relationships with them, rather than simply closing the deal for a prospect.
This means providing prospects with a value that addresses their specific pain points. From there, they can learn to trust and connect with your brand enough to fill out a form, prompt a live chat, or make a purchase.
Tools you can use at this stage will include lead flows, email marketing, lead management, marketing automation etc
Delight
At this point, you have made a sale. So what next?
Unlike what most people think, it doesn't end when you make a sale to a customer. You have to keep working actively to make sure people are completely satisfied with the services they receive from you, so that they stay loyal, make a return purchase and even refer you to more clients.
Every business needs to understand that it is far easier to retain a customer than to find new ones.
Tools you can use at this stage will include smart content, email marketing, marketing automation, etc
When customers find success and share that success with others, it attracts new prospects to your business, creating a self-sustaining loop. This is how your business builds momentum. This is why the inbound methodology serves as a strong foundation for your flywheel.
What is a Flywheel?
The flywheel visualization adopted once again by Hubspot encourages you to focus on finding the right people. You focus on effectively addressing their pain points, and providing them with the support they need to succeed once they have purchased from your company.
Turning your visitors into leads, and your leads into loyal or repeat clients. Figuring out how to cater to prospective customers at each of these steps is the goal.
Inbound Marketing Strategies
The 3 different stages of the inbound marketing methodology require different unique strategies as they cater to separate goals. Individually they stand apart but all together they contribute to keeping your flywheel in motion. This ensures that your business remains on the growth path.
Attract Strategies
Every single action taken at this stage should be geared towards attracting your target audience to your business. Content creation is the key strategy at this stage.
You have to start creating and publishing content that provides top value to your target audience. This content will include blog articles, content offers, and social media posts
Examples include How-To guides for your products/services, customer testimonials, etc
But it's not just about creating content, it is also about publishing them in the right places. Places that your target audience visits regularly. Then you have to optimize this content with a well-thought-out SEO strategy.
An SEO strategy will require you to target specific keywords and phrases related to your products or services, the challenges you solve for customers, and the ways you help target audience members.
Social media would also play a crucial part here. No matter who your target audience is, they are most likely spending time on multiple social media platforms. Find out which social media platforms are most relevant to your target audience. Once you do this, create the best social media strategy to reach them
Engage Strategies
At this stage, it is about engaging with people who have shown an initial interest in your business.
This stage involves getting your hands on visitors' contact information so you can engage with them and show them why they should do business with you.
You want to communicate with them in a way that would allow your business to build long-term relationships. You want to communicate as much as possible the value that your business offers them.
Email marketing and email automation play a vital role at this stage. Email is a very effective way to nurture your leads and it also compliments social media perfectly. When people subscribe to your email list, it means they want to hear from you. It is left to you to make sure that you understand what they need and communicate how your business can fill that need.
Nurturing leads is a long-term process, and automation can help you save time and increase the effectiveness of your campaigns. All of this will help you communicate with leads in the best possible way. In turn, it increases your chances of converting them into customers.
Delight Strategies
If you are looking to build a business that grows exponentially, then you can't afford to overlook this stage.'
Inbound marketing isn't just about getting customers. It's about keeping them happy so they can make repeat purchases and even refer your business to many others.
The more you can keep customers happy aka delight them, the more they will spread positive reviews about your brand. Positive word of mouth is the greatest compliment anyone could ever give your business.
So the question is how can you delight your customers? Social listening, surveys, and great customer support are just 3 strategies you should be leveraging.
For social listening, social media followers may use one of your profiles to provide feedback, ask questions, or share their experience with your products or services. Respond to these interactions with information that helps, supports, and encourages followers — this shows you hear and care about them.
Your business must have a solid customer care team to follow up with customer feedback and resolve issues as they arise immediately. This keeps your customers happy. A happy customer could potentially be a raving brand advocate for your business so it's a win-win situation for everybody.
Also, a satisfaction survey may be sent out after customers have purchased your product or service. This helps your business to get their feedback and review ideas for improvement.
Benefits of inbound marketing
Increased brand visibility and awareness
Today, it is so much easier for smaller businesses to compete favorably with large businesses for the attention of consumers. When you can produce the right content to reach your target audience at every step of their purchase journey, your business would be found easily.
Inbound marketing allows you to be in a position where leads will come to you throughout various phases of the buying cycle, rather than just traditionally pursuing them.
Educate your target audience
In today's market, consumers make a lot of research and consume a lot of information before making a buying decision. Thanks to inbound marketing, with a little research and defined buyer personas, you can understand where your target audience is looking for information. This way, you'll be able to distribute your content strategically to be seen by them.
A well-executed inbound marketing strategy offers your business a much higher ROI than any other method. This is because you're strategically creating extraordinary content that brings the audience to you.
Inbound marketing is about focusing efforts on attracting people who are looking for something that you offer because spending marketing resources on people who don't want or don't need your products is useless and absurd.
Improves long-term customer relationship
Inbound marketing is essentially about providing useful, valuable content to your target audience. At the core of every inbound strategy is the art of seeking to truly know your customers better to provide them with even more value.
This is best accomplished through careful monitoring that helps you solve their problems and answer their questions. The more value you bring to your customers, the closer your relationship grows.
With the HubSpot flywheel, you can enhance your inbound marketing by placing customers at the center of your strategy. To do that, you want to focus on delighting each customer throughout their buying experience and ensure that all of your employees understand how important this is to the success of your business.
Right now, if you are not putting your customer at the center of your strategy and focusing on delighting them, you're doing it wrong
Inbound marketing provides you with a way to gather measurable and valuable data about prospects, leads, and current customers; analyzing this information helps you create new business relationships as well as strengthen existing ones.
Want to implement the Inbound Marketing Methodology for your business but are still not sure where to begin? Our in-house Inbound marketing certified experts can hold your hands and lead you to implement the right strategy custom-made just for your business. Simply fill out the form HERE and we'd get back to you immediately